2017 Downtown North Bay Civic Weekend Free-4-All
until Sunday August 06 3:00 PM
@ Main Street from Algonquin to Sherbrooke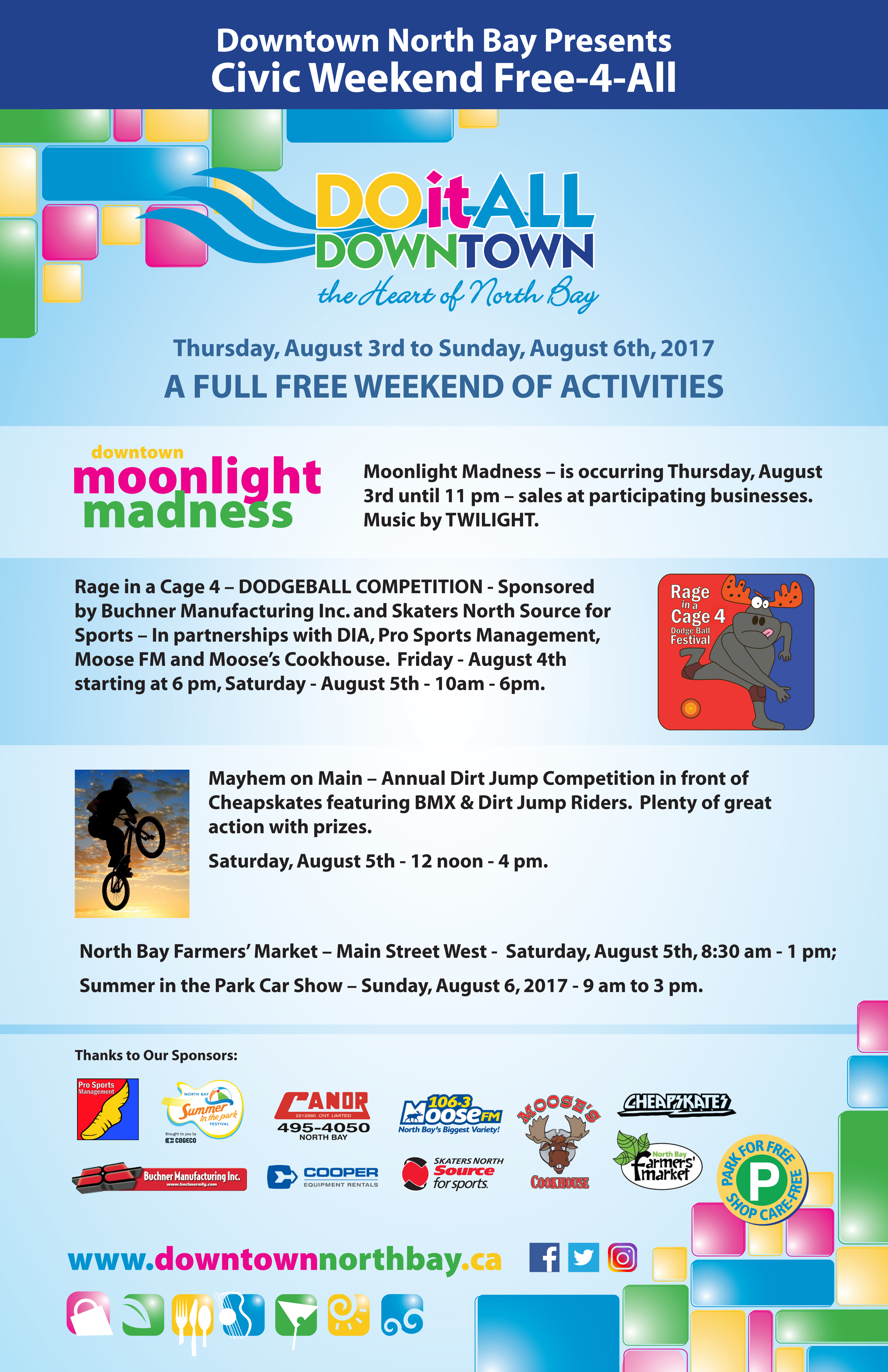 Schedule of Events for the Weekend:
Main Events for Thursday, August 3rd, 2017 | For the evening
Downtown North Bay participating businesses will remain open during the evening for extended hours as part of Moonlight Madness.
Music will be provided by Twilight and local buskers.
Our Downtown Businesses who are currently participating in Moonlight Madness:
3 Fires Martial Arts Academy

(Eva & Darrell Couchie) - Open to the public to view classes and demonstrations from 5:45 to 9:00.
27Co Jewellery & Repairs

(

Christie Wipprecht

) - 10% off select jewellery.
101.9 ROCK

- Street team will be out.
Affordables 4 U

(Randy Sparks)- Bed Sheet Sale (Any Size) $18.99.
Antiques at Deegan's

- Deegan's Shoes (

Pat Kenzie Diegel

& Ralph Diegel) - Big sales
The Annex by Cheapskates

(Rosie Klus)- One day sales from open to close.
Capitol Centre

- TBD (will be inside the WKP Gallery)
CHEAPSKATES

(

Barry Klus

)- One day sales from open to close.
Creative Learning

(

Gale Anthony

&

Des Anthony

)- TBD
Dirty Girls Farm

(Joana Boldt) - Basket Contest
Essence Aromas

(Kathleen Lefebvre)- 70% off store wide
Gulliver's Quality Books & Toys

(Marianne Seaton)- Flash Sales
Happy Dayz (Mike Switzer)- 20% off items in store, 10% off vaporizers.
High Class Glass

(Dillon Mailloux) - 10% off all glass
Junior world

(

Irit Cochran

)- Half-price sales
KiSS 100.5 North Bay

- Street team will be out.
Legit Trix

(

Ethan Trickey

) - 25% off in-store items (excluding hard goods) from 6:00 - 11:00 pm
London Underground North Bay

(

Dayna Greco

)- Half-price sales (possible second in-store promotion)
Michaud-Vachon Optical

(

Joe Michaud

)- Will remain open until 9:00 pm
Michelle's Frame Maker & Gallery

(

Michelle Trudeau

) - Outside art gallery on sidewalk / sale
North Bay Escape Rooms (Kayleene & Dustin Gennoe) - 20% gift certificates and rooms booked with a deposit down.
Northern Tikes Indoor Playground & Party Centre

(

Katy Thistel-Latimer

)- Half-price admissions.
Pearls (

Cathy Ling

&

Susan Middaugh

) - Sales
Pita Pit North Bay

(

Laxmi Konwar

)- Free chip with pita combo.
Splurge Fine Clothing for Women

(

Maureen Bentley

)- Sales racks and refreshments.
The Abbey Cards & Gifts - Hallmark

(

John Lyle

) - Will be open until 9:00 on August 3rd for Moonlight Madness.
The Diva Den

(Kristyne Vickery-LaCarte)- Sales, sales, and more sales.
The Farm

(

Katie Bevan

)- TBD
The Painted Penny (

Penny Freeman

)- Chalkpaint demos
The Underdog

(

Tony Loeffen

)- Open until 9:00 pm (normal hours).
UK Food & Gifts (Art & Norma Nelson) - Draw to win a bag
Waxman Records

- Open late, Sidewalk Sale, Music, & Lights
White Water Gallery

(

Serena Kataoka

)- Table for art-making and sales.
WKP Kennedy Gallery

(Alex Landon Richardson) - Chalk Drawing on Sidwalk / Possibly Music (TBC)
If you a North Bay Downtown Improvement Area Member and are interested in partaking in our Moonlight Madness, please contact our office at (705) 474-7824 or by email at dia@on.aibn.com. You may also stop by our office located at 133 Main Street West, Suite 101.
Main Events for Friday, August 4th, 2017 | Starting at 6:00 pm
Live music and entertainment will be provided throughout our Downtown.
Our 4th annual Rage in a Cage Dodgeball Competition will commence at 6:00 pm.
Main Events for Saturday, August 5th, 2017  | 12:00 pm - 7:00 pm
Downtown businesses will be open.
Live music and entertainment will be provided throughout our Downtown.
North Bay Farmers' Market will be open and set up (for this weekend only) along Main St. W.
Mayhem on Main 5, our annual dirt bike and BMX jumping competition, will run from 12:00 pm - 4:00 pm in front of Cheapskates.
Mobile Escape rooms will be set up from 12:00 pm - 6:00 pm.
Rage in a Cage 4, our dodgeball competition, will conclude at approximately 6:30 pm.
Main Events for Sunday, August 6th, 2017 | 9:00 am - 3:00 pm
The Summer in the Park Car Show will take place from 9:00 am - 3:00 pm and will be set up along Main Street.
Please note that in order to make our Civic Weekend Free-4-All and North Bay's Summer in the Park possible, road closures will be in effect from Friday, August 4th starting at 1:00 pm for the Civic Long-Weekend.