Celebrate Winter in Downtown North Bay/célébrez l'hiver au centre-ville de North Bay
until 4:00 PM
@ Downtown North Bay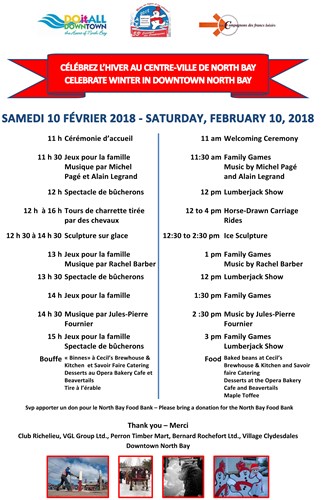 Downtown North Bay will be the site of the outdoor component of the 55th Carnaval des Compagnons which will take place on Saturday, February 10, from 11 am to 4 pm.
Planned activities include a lumberjack show, ice sculpture demonstration, horse-drawn carriage rides and outdoor games for the whole family. Bonhomme Carnaval will be around for the opening ceremony as well as for picture-taking at various times throughout the day.
The entire community is invited to join in the fun and break the back of winter! In order to make way for these activities, Main Street and one lane of Oak Street from Wyld to Fraser will be closed to vehicular traffic.
For more information, contact Lou Gagné at the Centre culturel Les Compagnons des francs loisirs 705-472-5547.
**********
traffic levels, enhance the profile of the Downtown and strengthen investor confidence in the Downtown core.
ABOUT Les Compagnons des Francs Loisirs
Les Compagnons des Francs Loisirs est un médium de développement et d'intervention culturelle et communautaire qui permet le soutien et l'enrichissement de la vie française au sein de la municipalité de North Bay et des environs, une région qui compte plus de 17 000 personnes qui ont une connaissance du français y compris 9 000 francophones. (Les Compagnons des Francs loisirs is a medium for cultural and community development that allows the support and enrichment of French life in the municipality of North Bay and surrounding area, a region with 17,000 people who have a knowledge of French including 9,000 Francophones.)