World Culture Fusion Fest 2021
until 7:00 PM
@ The Lot, located between Guardian Drugs and the Walkway building on Main Street West
Fusion Fest is excited to announce the inaugural performance festival this September in downtown North Bay. Artists will meet and perform to create original electro-ethnic fusion music, and spoken word collaborations.

The artists performed for the first time together July 3, 2021 at Lee Park. They will meet again on Friday, Sept 17th to rehearse their instrumental and lyrical pieces. The public festival gathering is on Saturday, Sept. 18th here in North Bay, Ontario! During the day FusionFest artists will share their original artworks to the world and to live audiences at the Festival's mini-concert with performances on Main Street at The Lot, Good2Go, and on Nipissing First Nation at Big Medicine Studios.
These events are open to the public from 12:00 to 7:00PM. Admission to the event is by
cash or e-transfer donation at the event venues.

The WCFF Committee, headed by Artistic Director, Justine Djolei Gogoua, promises a diverse and energetic range of songs, dances, food, and performances that will focus on bringing the "spirit of community" back to the Nipissing region, after almost two years of isolation and psychological hardships. This festival of fun invites people of all ages and ethnic backgrounds to come together to share in the magic of creativity, expression, collaboration, and unity!

FusionFest events will be broadcast via social media and everyone is invited to find links to these live events and recordings at worldfusionfest.com.

For more information about FusionFest and for future media launch dates...please contact us through: info@worldfusionfest.com or izquierdosamanta@hotmail.com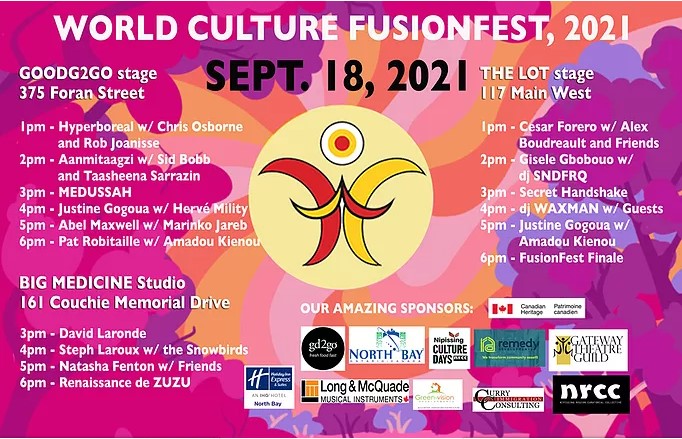 The NRCC is the lead agency for World Culture Fusion Fest 2021. The NRCC is an arts collective that has banded together to organize arts events: Nipissing Culture Days, NOVAH Gallery and Gallery 222 exhibits, creativity conferences and visual art exhibitions across Northeastern Ontario.

The group was incorporated as a not-for-profit cultural organization in 2016.
For more information about NRCC contact them through their website.