Welcome to the Downtown North Bay & Waterfront members' page!
This is a space for members like you. Come here to access the resources you need, get involved with our initiatives, and stay up to date on important information.
Who is a Downtown North Bay & Waterfront member?
Members of Downtown North Bay & Waterfront are businesses within the Downtown North Bay boundaries. There are many ways that you, as a member business, can benefit from the Downtown's activities and initiatives, including an increased number of visitors to your business, boosted awareness and increased customer retention.
Have questions about your membership? Contact us.
Are you a new member? Let's chat.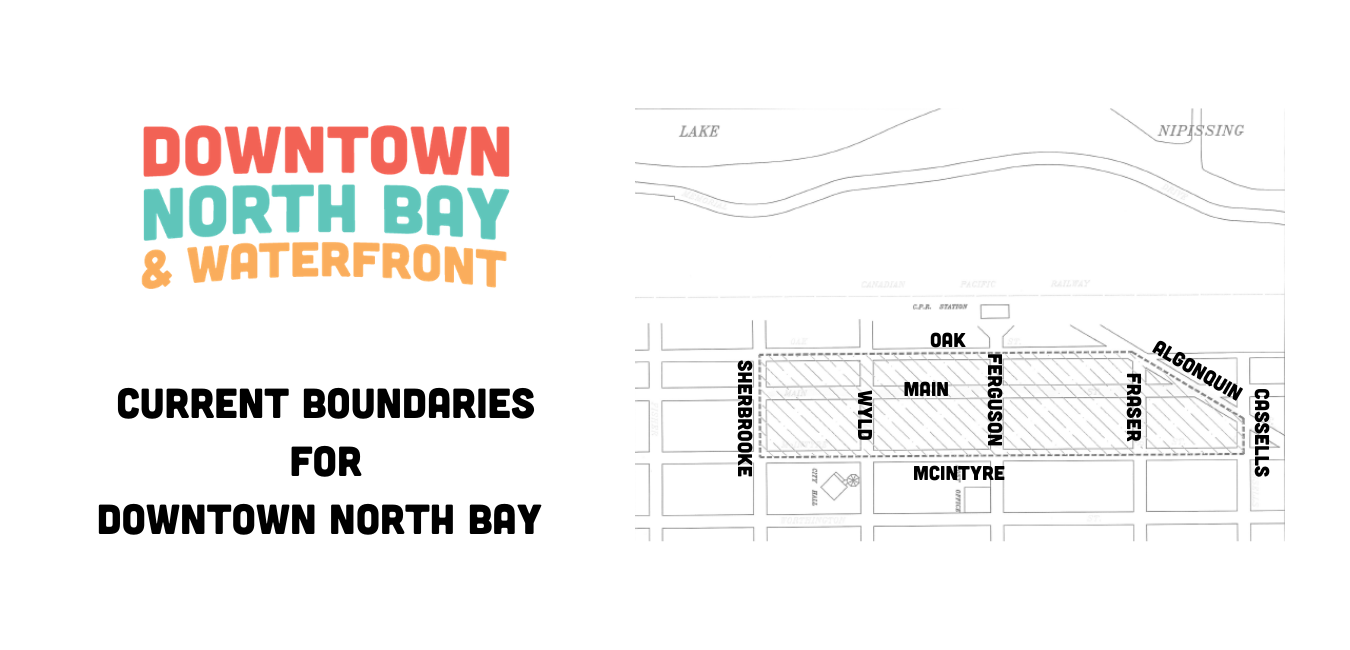 Business Resources
Visit our Business Resources page for helpful information.
Check your Downtown North Bay & Waterfront Directory listing online:
As a Downtown North Bay & Waterfront member business, you should already have a free listing. Please check to make sure your business and the right information appear there, including:
Business name with 1-2 paragraphs describing your business.
1-10 keywords – so you can be found easily in a search.
Your address / business phone / website/social media names.
Photo of business exterior (we take care of this).
Sign up for E-mail updates and Member News:
We use these three tools to keep members and the public informed of what's going on in Downtown North Bay & Waterfront:
Member Alert Emails

 

– our main tool for communicating important information with our business members. These alerts give you important updates on construction / crime / weather, reminders of holidays and other happenings, as well as member events and programs.
Members-Only Facebook Group

 

– a private group to allow member businesses and property owners to communicate, dialogue, and collaborate with each other. Use this link to apply.
Newsletter Emails – Members find it a useful tool to follow events and news in Downtown with feature pieces, upcoming events, and more.  If you're on our email list, you will receive newsletters as they are published.
Find our current and past newsletters here.
Tell us about your events!
Be sure to send your event notices, job postings, media features our way so we can include them in our newsletters, and talk about them on social media: Tell us about your event
Tag us on social media!
We also use the social media channels below to highlight events, and share community news and photos. We are also happy to like, share and reply to a mix of our members' social media posts, so be sure to a. tag our account names on all platforms, and b. use one of the hashtags below in your posts.
Facebook: @DowntownNorthBay
Instagram: @downtownnorthbay
Hashtags we actively follow:
#downtownnorthbay #northbayontario #loveyourdowntown #dtnb #downtownnorthbayandwaterfront 
Healthy Community Ambassadors Program
Click here for the information sheet.
Monday-Friday 8am-4pm
Bryan Eade 705-492-5716
Benji Nelson 705-492-6675
Be in touch!
Visit our office:

205 Main Street East

, in the Chamber of Commerce office.
Call:

705-472-8480 x233

Email our staff:
Annual Budget
Want access to our annual budget? We're happy to provide it!
Our budget outlines Downtown North Bay & Waterfront's income and expenses every year. If you are a member who would like to see our budget, please contact us directly to request an electronic copy.
Meeting Minutes
Read about what we're working on. The minutes from our monthly board meetings outline what issues we are discussing and the decisions we've made. You can find them below.  
Upcoming Committee Meetings
Promotions & Marketing - Date TBA at 8:30am via Zoom.
Beautification & Safety - Date TBA at 8:30am via Zoom.
Committee Reports
You can find reports from committee meetings here.